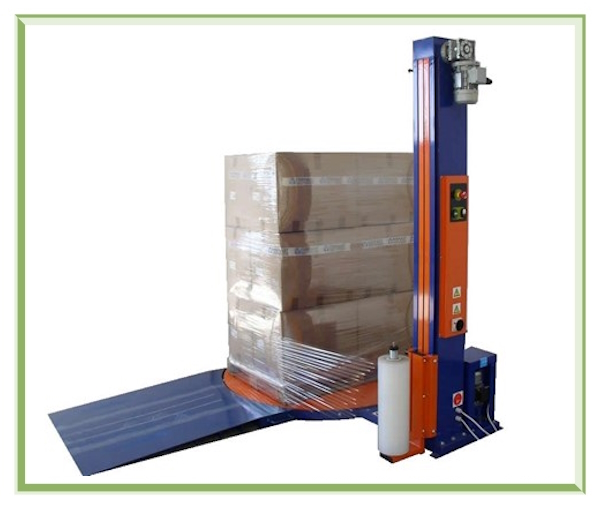 Wrapping machine with rotary table mod. ECO/A, complete with :
- photocell for reading the height of the pallet,
- digital panel with 3 winding programs (up, up-down, manual)
- inverter for soft start
- manual film blocking/cutting and automatic wrapping cycle.
- reset button for repositioning the film reel at the base of the column
- foldable column for easy transport
- forklift base
- mechanical clutch for film tension
Operation:
Place the pallet on the platform, fix the film to the base, select the wrapping program and press the start button. The machine automatically starts winding and stops. Cut the film manually.
Stretch film for wrapping machines:
The film normally used on wrapping machines is 23 my.
The film can also be used with 30 my, suitable for protecting the contents of pallets from sunlight.
Machine made according to CE rules.
Technical specifications :
Maximum load Kg. 2000
Rotary table speed 7 rpm (adjustable with inverter 4 - 7 rpm)
Max. pallet dimensions mm. 1000x1200xh2200
Rotating table diameter mm. 1500
Film reel dimensions mm diam.est 300 x diam.int.75 x h.500
Power supply 380V 50hz. + T + N - Kw 0.4
Machine dimensions mm. 1500 x 2150 x 2450 h. - weight kg 350