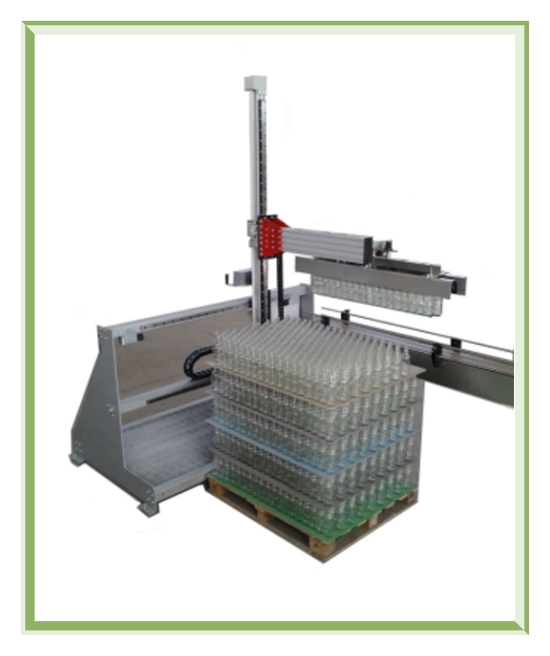 Machine suitable to depalletize new glass bottles by a pick-up system.
Semiautomatic depalletizer with manual controls, supplied with one picking head for the neck of the bottle or with a magnetic type head for metal cans.
The machine is designed to work with pallets with size 1000 x 1200 x H2000 (max height), with plastic or carton layer pads.
Centering frame to place the pallet in position by a forklift.
Linear guides for precision movements of the picking head
The head is transferring 3 ranges of bottles / cans on each operation. This solution is ideal for bottling lines with output up to 3.000 bph.
Alternatively, version with picking head to take a complete layer of bottles, in this case the productivity increases considerably.
The adjustment to different bottle sizes is quick and easy, simply regulating the position of the inflatable tubes.
Machine complete with electric panel 'EC' marked with controls
Machine operation cycle:
1) Positioning of the pallet with nylon film cut
2) Manual placement of the picking head on the pallet by 'joystick' controller with electric impulses
3) Automatic stop of the picking head in position on the bottles/cans by micro-switch
4) Manual control for picking of the bottles/cans
5) Side shifting of the picking head to the discharge table
6) Automatic stop of the head in position on the discharge table by microswitch, with synchronized stop of the chains on the table until the bottles are released.