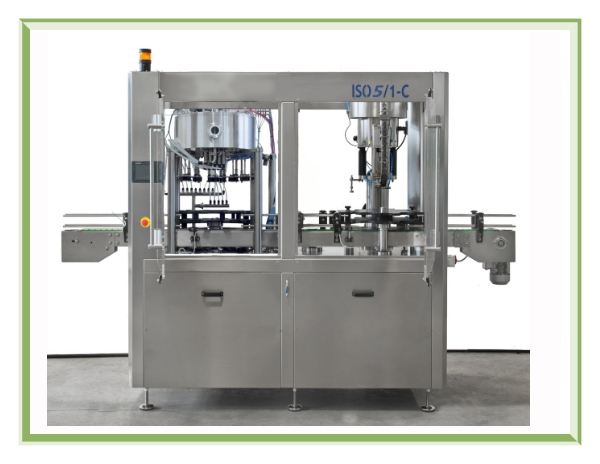 Automatic monoblock with a 5-valves isobaric filler and a single-head crown capper (equipped for 26mm pry-off caps), for filling glass bottles with beer, cider and other carbonated beverages.
Filling capacity up 700 x 33cl bottles/hour
Counterpressure filler for carbonated beverages, with 5 filling nozzles, with motorized (chain-driven) selection and transfer of the bottles in the filling area.
The filler's bowl, realized with thick walls (tested up to 6 bars), is equipped with electric type probes for mastering the product level.
The filling valves are made in stainless steel, with heat-resistant seals for steam sanification; the change of the filling level in the bottles is quick and easy, by simply replacing the vent-tubes under the valves.
The electro-pneumatic filling cycle is completely automatic : 1st valve opening for counter-pressure - total valve opening for filling - pressure exhaust from the bottle neck (snifting); single and double pre-evacuation systems are available to prevent oxydation.
All phases and working times are set by an electronic controller (PLC) with touch screen panel.
The automatic corking turret for 26mm crown caps is equipped with a stainless steel caps hopper with chute and pick-off head; the 10-pockets starwheel in hdpe material has a safety microswitch to prevent bottle crashes.
All the moving elements are assembled on a rock-solid stainless steel frame, with large opening doors, mounted on adjustable support feet.
The 'EC' safety shields are realized in thick clear plastic panels and equipped with safety micro-switches.