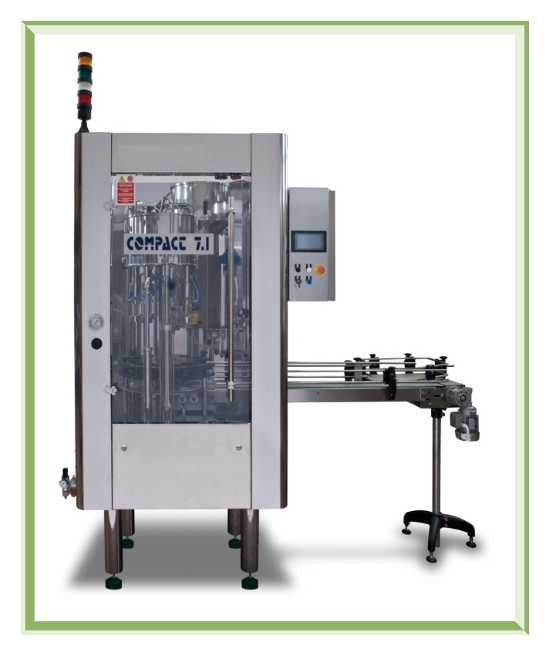 The 7-valves filling - corking monoblock model COMPACT combines technological innovation, minimum overall sizes and user-friendly operation.
It is designed for the small wineries producing high quality wines, who like to perform the bottling operation with the same care and dedication as given to all the steps of the winemaking.
The same unit can be equipped with a crown sealer, and used for bottling of craft beer (bottle-fermented beer).
The central starwheel - running with alternate step - is conveying 7 bottles at a time under the filling valves, them the upper tank is lowering down to start the filling; while the filled bottles are then moved to the corking head, another set of 7 bottles are entering the filling position.
The half-ring shaped stainless steel tank allows using nitrogen in contact with the wine.
The filling principle is based on a low pressure of inert gas, a technology preventing loss of flavours, aromas and dissolved gasses.
At the same time, the nitrogen performs an efficient protection against oxigen pick-up.
The parallel infeed and outfeed conveyors are designed to allow one only operator to perform comfortably the infeed and outfeed of the bottles.
As an alternative, it is possible to connect at the outfeed a capsuling-labelling machine for complete automatic operation.