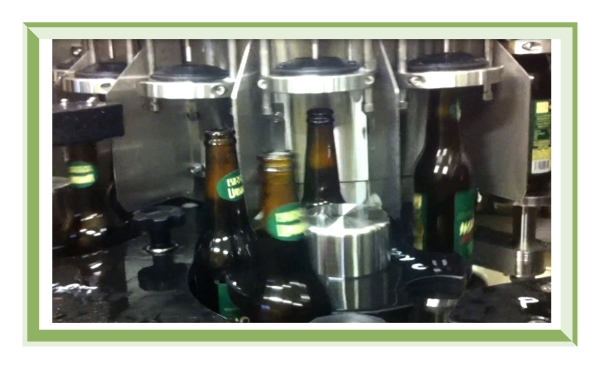 Bottling monoblocks for sparkling beverages, as mineral water, soft-drinks, beer, sparkling wines.
The monoblocks are including a rinsing turret (on option), a high-pressure filling turret and a capping head for different types of closures (corks, screw or crown caps).
The filling groups are available from a minimum of 6 nozzles, and can be designed in different versions for single or double pre-vacuum and nitrogen injection.
Bottling cycle:
1- The bottle entering the filling turret moves under the nozzle; when the nozzle opens, part of the pressure inside the filler's bowl is transferred to the bottle (pressure compensation)
2- After that the pressures in the bowl and in the bottle are balanced, a spring-loaded mechanism opens the nozzle top valve, to start the product filling.
3- The product is flowing all around the bottle walls, by means of a deflecting seal, to avoid foaming.
4- As soon as the product is touching the level pipe, the nozzle is closing to keep the proper level of product inside the bottle.
5- Before the bottle is moving out from the filler's turret, the inside pressure is gently reduced by an exhaust valve (degassing).
Main Specifications
* The base of the machine is a firmly welded structure with height adjustable supports, resistant to bending or vibration
* The following elements are mounted to the baseframe:
- the filler main support
- the driving system (drive motor and a worm gear reducer),
- the gears driving the infeed/exit star-wheels, and the inlet scroll.
* All the main components can be easily inspected for cleaning and maintenance operations
* The rotary plate supporting the tank is connected to the machine base by a bearing disc with a large diameter and guided by self-lubricating guide bushings; the device allows to adjust the height of the tank by means of an handwheel.
* The filling nozzles can be easily removed for maintenance.
* The machine is complete with a control panel including buttons and thermal relays.
* Safety clutches are installed on the inlet scroll and the starwheels
* ALL THE COMPOMENTS IN TOUCH WITH THE PRODUCT ARE MADE OF STAINLESS STEEL AISI 304 QUALITY (AISI 316 ON DEMAND)