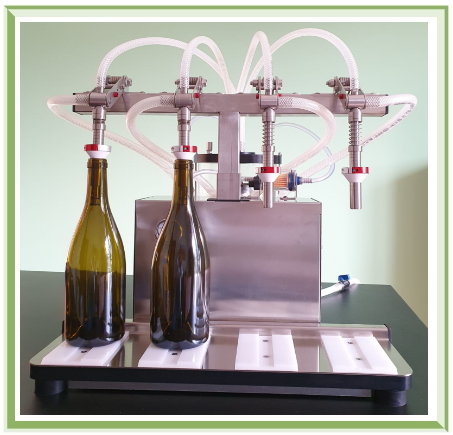 Bench type machine, structure and filling spouts made of stainless steel.
The machine is equipped with an integrated vacuum pump: at the opening of the nozzles, following the positioning of the bottles, the vacuum sucks the product from the storage tank to the bottle, without contact between the product and the pump or any other mechanical component of the machine.
This system allows to carry out the filling and cleaning operations in the maximum hygiene and without product losses.
The filling level in the bottle is easily adjustable by changing the height of the lockring on each nozzle.
The product storage tank can be placed on the ground: the vacuum pump integrated in the machine sucks the product without the need for an intermediate transfer pump.
Specifications bottles:
• Inner neck diameter: 16mm to 35 mm
• Diameter of bottles: 50mm to 100mm
• Bottle height: from 100mm to 350 mm
Features of the machine:
• Automatic product levelling in the bottles, with manual adjustment
• Compact design
• Stainless steel base, frame and spouts
• Gaskets and other plastic components made of materials certified for food use
• Height adjustment for different bottles with central spring
• Vacuum adjustment according to product type with gauge
• Filter for pump unit protection
• Borosilicate glass recovery tank
• Universal tubes (for wine, beer, oil, spirits, hot fruit juices)
• Fully accessible and sanitizable product passage circuit
• Availability of special nozzles for filling small bottles
• Product feed: hose connection 1" with pipe diam.25mm
Production:
Model Ultrafill-2: from 200 to 400 b/h - depending on the volume of bottles and products to be filled
Model Ultrafill-4: from 400 to 600 b/h - depending on the volume of bottles and products to be filled
n.b. the filling machines operate without compressed air and without the need for an external product feed pump.