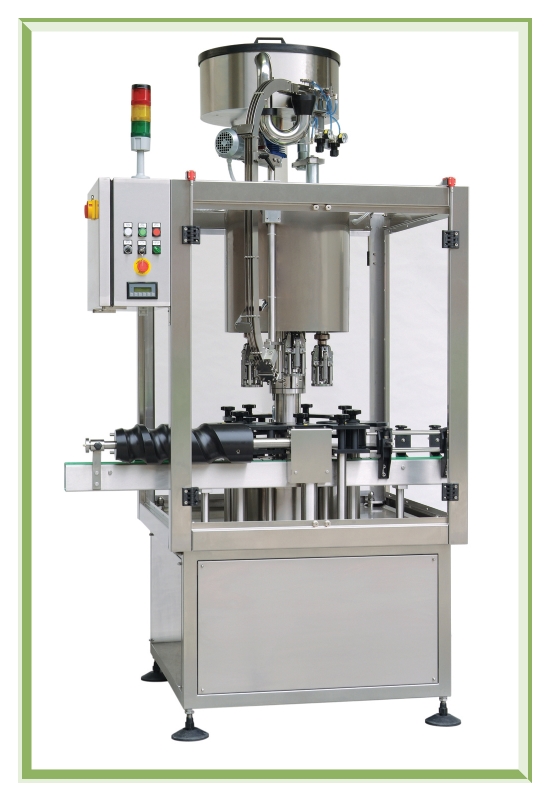 Rotary capsuling units for closing aluminium / plastic screw caps or crown caps on round or shaped bottles.
The screw caps are widely used in several different applications, in the beverage industry (wines, mineral waters, distilled spirits), the pharmaceutical and cosmetic industry (syrups, mouthwashes, tonics), the chemical industry (paintings, lacquers removers)
The crown seals are common when bottling beer, soft-drinks, juices, tomato sauce
The capping machines are available with 3, 4 and 6 heads on rotary turret.
The capsules to be handled are fed through centrifugal, pocket or vibration feeder-sorter; the capsule is transferred through a chute (equipped with a photocell detecting the capsule) ending with the distribution head.
Pre-threaded plastic caps can be distributed by a transfer disk (pick & place system)
The pistons supporting the heads are operated by rolls sliding in the guiding cam located inside bronze sleeves, therefore lubrication and maintenance are user-friendly.
The 4-rolls stainless steel threading heads (equipped with 'no cap/no roll' device) allow obtaining a very good threading and rolling of a wide range of capsules.
Plastic caps are applied by magnetic torque heads, with interchangeable terminal cones.
The height adjustment and the format change are rapid and easy to be performed.
The safety devices are designed to avoid malfunctions and bottle breakages.
The standard machines are equipped with safety guards, stainless steel control board, electrical lifting of the head, and infeed screw
Main Specifications
• Centrifugal type caps sorter
• Speed adjusting by frequency nverter
• Plc for controlling all working parameters
• Display for working speed and alarms
• Height adjustment settings by PLC
• N. 2 photocells for caps presence in the chute
• Bottles jams control photocell at outfeed
• Endless screw for bottles infeed
• Safety guards frame and control panel made in stainless steel
• Electric height adjustment of the rotary turret
Options
• Lack-of-Caps detection at the outlet with auto machine stop
• Tachometer counting bottles/working hours
• Automatic start of the capper controlled according to the number of bottles at the inlet.
• Mechanical elevator for capsules with loading hopper from floor