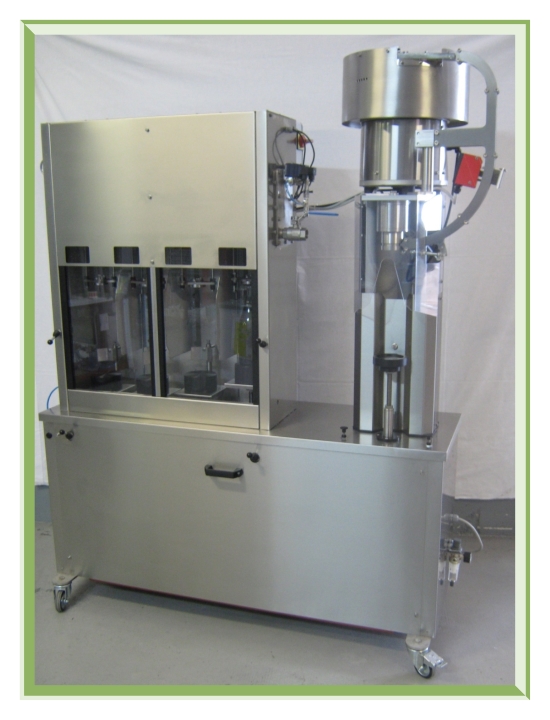 The bottling group for micro-breweries is including :
- a filling station with 4 nozzles; the isobaric type valves are designed for filling both fermented beer and still beer.
A vacuum-operated system removes the air efficiently from the bottle before starting the filling operation, to avoid oxygen pick up and increasing the shelf-life of the beer.
- a capping station for application of a crown seal with diam. 26mm; the same turret can be equipped with change parts for applying a 29mm crown seal, as commonly used on 75cl bottles.
Both stations are installed on a common base-frame, made of a steady stainless steel construction.
The frame is assembles on wheels.
The unit can be equipped with different types of closing units, as with a corking turret, a pressure head or an aluminium screw capper.
MAIN TECHNICAL SPECIFICATIONS:
• counterpressure filling system, special for beer
• filler's bowl made of thick walls, with highly-polished surfaces for easy cleaning; the bowl is tested up to 6 bars; electric level probes for automatic inlet of the beer.
• pneumatic bottle-lifts with self-centering device
• stainless steel filling valves, with food-graded heat-resistant seals for hot-sterilisation
• foam-reduction system : thanks to a special ring the beer is softly distributed on the bottle walls
• quick-removable filling level pipes
• safety plexiglass panels, with automatic up/down motion (the filling cycle is not starting when the safety window is in open position)
• stainless steel capping head for crown caps diam.26mm
• mechanic closure system with synchronized pneumatic bottle lift
• automatic caps dispensing by vibrating hopper, with stainless steel chute and cap forming head
• Control panel and safety shields complying with EEC safety laws.
• Machine made in stainless steel aisi 304/316 quality, with some parts in aluminium and steel with anti-rust painting treatment